Welcome to the Crazy Crafters Blog Hop, every month we CASE an amazing demonstrator and this month is no different.
This months Star Person to CASE is none other than Tami White.
I have to tell you I got great joy out of researching for this blog hop simply because of this womans gorgeous infectious smile.
So this is what I chose to CASE. I love the design and it is totally different to anything I have done before so I thought that was a good one to have a go at (plus it made me use DSP which I fail at lol). I have only made the card for this hop but hopefully sometime soon I will get around to making the box too.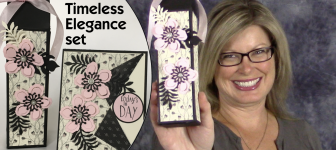 Click Tami's beautiful picture and you will be taken to a video link.
So this card was made using the Playful Pallette DSP. The Falling Flowers, Thankful Thoughts and the Grateful Bunch Stamp Sets. The colour are the new In Colours.
Please note I have not mentioned the Framelit that is used to cut out the swirl pattern, I do not have it but definitely recommend getting it (not sure why I didn't get it, guessing I typed in the wrong number on my order *sad face*) also there is a punch for the small three flowers, I fussy cut because I didn't want the little borders on this card.
Well I hope you like my creation.
Please hop around all of the other participants in the hop (the full lineup is below) and if you have time leave a note it really does make our day.
Until next time Stay Well and Happy Crafting.
PS